Enzo is our S*Ulabrands Sunnygirl's offspring in her first and only litter with EC Mighty Claws Garion, our E-litter.
Enzo has always been a very good tempered boy. He enjoys life in all aspects and loves all individuals, both humans and other cats. He has always looked up to his mothers brother S*Ulabrands Sunnyboy and it looks like he regards Sunnyboy as his mentor. When he has come into new situations without the presence of Sunnyboy he can look a bit uncertain but if Sunnyboy is present he acts like Sunnyboy.
Enzo has from early days had sturdy boning and good muscles. He enjoys to run out in our catrun and up and down from our stairs. This has made him very strong. If he does not want something it is very hard to hold him, luckily he is so kind and normally allows you to handle him as you want.
Enzo became fertile quite late, he was almost 1,5 years old but then it happened in an instance. Since then he is interested in good looking NFO girls but he is a kind gentlemen and awaits their willingness. We have several fertile NFO ladies at home and that has probably triggered him to start spraying. This has not been a big problem to us though as he is OK with wearing trousers and he rarely sprays in his own room. This is a very similar behaviour as Sunnyboy had.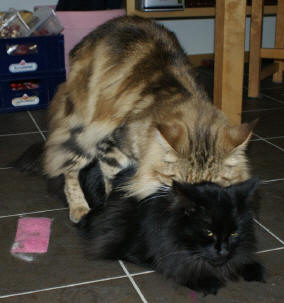 Enzo mated with our GIC S*Sjöhorvan's Carmen in April 2009 and during the night between June 11 and 12, 2009 Carmen gave birth to four wonderful and big kittens, our G-litter. This is Enzo's first and so far only litter. Hopefully it will be more as he have had some visits from some good looking NFO ladies.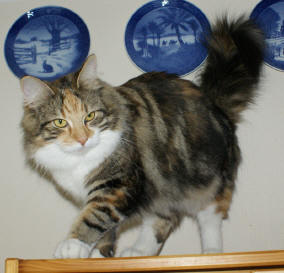 Enzo's second litter was born on July 4, 2009. The mother to the litter is the nice S*Love Herbs Mercedes who lives with S*NOLion's. The litter consists of 5 kittens. See more of them at Enzo's offspring pages and at S*NOLion's site.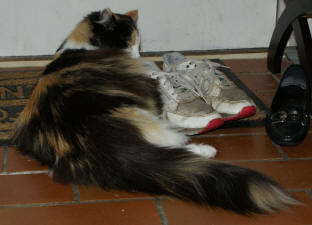 Enzo's third litter was born between October 31 - November 1, 2009. Proud mother is CH S*Kaup Home Cat's Soul. The litter who consists of 4 kittens and was born at S*Kaup Home Cat's. See more of them at Enzo's offspring pages and at S*Kaup Home Cat's site.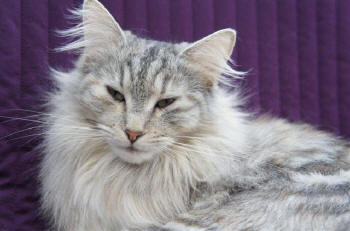 In April and May 2010 Enzo mated with S*Kasttilaforsen's Maud Adams. On July 19th Maud Adams gave birth to 5 kittens. This is Enzo's 4th litter.

Photo: S*Kattilaforsens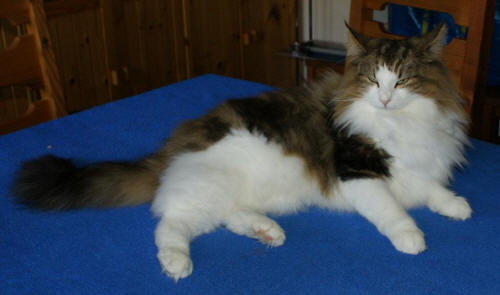 In June 2010 Enzo mated with S*Våra Egna's Amorina. On August 25, 2011, Amorina gave birth to 5 kittens. This is Enzo's 5th litter.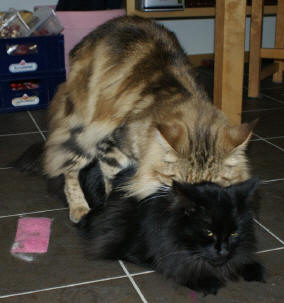 Enzo mated with out Carmen in May 2011. On July 20th 2011 Carmen gave birth to 3 lovely kittens. This is our J-litter and Enzo's 6th litter.