You can read about Carl's first three months at the C-Litter tag, especially on his own page there..>>
Carl was born in our C-litter with our Sunnyboy as his father and our Cajza as his mother. Already early in his development he showed a very promising exterior that I thought was going to be interesting to follow the development of. His temper also showed a very social cat that loves to lie close to or on his human friends and show his appreciation with a friendly purr.
As I wanted to see Carl's development I initially searched for a home for him not so far away from us but as we have not succeeded with that I have now decided that he stays in the cattery and potentially becomes our new breeding male, provided he manages himself in a nice way.
Carl loves to spend the nights sleeping on my chest and now and then lick and "cut" my hair by chewing on it. If he continues to do this while I am asleep I will soon have short hair. It is hard to chase him away as he enjoys to be close to me so much. His pleased purr will sound almost constantly. Carl will take any opportunity to be close to me and cuddle. When I sit by the computer and work he will lie down as close as he possibly can and I have a hard time to defend the keyboard from him. Against visitors in our cattery he is a bit shy but it becomes better when he has had a chance to get to know our friends.
Even if Carl when is more than 6 months old he enjoys to nurse from one of the catladies in our cattery. When his mother Cajza or her sister Carmen no longer allowed nursing he has turned to his halfsister Bianca who gladly allows him (and his brother) to nurse on her even if she has no milk. It looks a bit strange when Carl, Charles and David lies nursing on Bianca who is about the same size as Carl.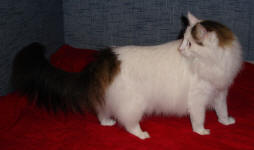 During New Year celebrations 2007/2008 Carl had his first date with the wonderful catlady S*Glimra's Capella. This resulted in the birth Carls first litter on March 1, 2008. Four wonderful kittens, one female and three males, that the parents are very proud of. You can find our more about the litter on S*Jamaloss site.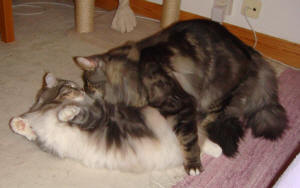 Carl's second date took place during end of January and beginning of February 2008 when the young and quite S*Cazmirau's Sparkling Emerald visited us. This date resulted in that Sparkling Emerald gave birth to 5 wonderful kittens on April 3, 2008, one female and four males. See more abut this litter on S*Cazmirau's site.
Carl's third and last date took place in April 2008 when the elegant S*Pysida's Diva visited us. On June 19, 2008, Diva gave birth to 5 quite kittens, one female and 4 males. This is Carl's last litter. See more about this litter on S*Knallhattens site.
Carl was neutered on May 12th, 2008. This was done mainly to allow Enzo to develop as a male, especially as Carl was a too close relative to mate with any of our females.